Submitted by

Cecilia

on 4 December, 2012 - 18:07
The ANTaR Qld Monthly
December 2012
rights  l  justice  l  respect
ANTaR Queensland wishes you the joy of the festive season, an opportunity to refresh over the summer, and a new year of successes on the rights, justice and respect front in Queensland. The office will shut 17 December 2012  and open again 7 January.
ANTaR End of Year Activities
COLLECTING FOR AUNTY JEAN'S XMAS HAMPERS
Call for Donations
Last year ANTaR Qld supporters raised $500 in support of Aunty Jean's Xmas Hampers. Help make this end of year a special one for families in need by donating towards $20 and $50 food and necessity vouchers for families. Please make your cash donation into the AQ Account as follows:   Note: Xmas Hamper   Acc: ANTaR Qld Assoc   Bank: CBA    BSB: 064 000   Acc#: 1043 3275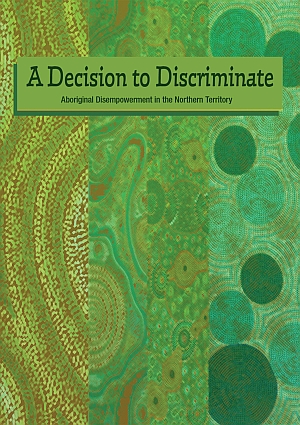 Community Book Launch: A DECISION TO DISCRIMINATE: Aboriginal Disempowerment in the Northern Territory
Wed 12th Dec 5.30pm
KURIL DHAGUN, State Library of Queensland, Wednesday 12 December, 2012 (5.30 for a 6.00pm start)  RSVP (essential) by Tuesday 11 December to Wayne,  0408 701 906 This 116 page book presents a wide range of statements on the Northern Territory intervention and the subsequent Stronger Futures legislation.  Edited by Michele Harris, it is published by Concerned Australians with support from the Mary McKillop Foundation.  BRISBANE LAUNCH  by Graeme Mundine ( Executive Officer, Aboriginal Catholic Ministries, Sydney Archdiocese) Sponsored by Amnesty International (Qld) and ANTaR Queensland.  # Drinks and nibbles served on arrival     # Info stalls, Amnesty and ANTaR  Supporting the launch will be Aunty Lilla Watson,  outstanding leader, teacher and advocate and Les Malezer, Co-Chair, National Congress of Australia's First Peoples. The book will be on sale at $20 per copy.
2013 MEMBERSHIP RENEWALS NOW DUE
Thanks to everyone for your support and commitment over the year that has been 2012. Your membership makes us a stronger voice for rights, justice and respect in this state and we encourage you to join us for another year of learning more, letter writing, campaigning and advocacy. Onwards! Membership forms and payment details can be found here
2013 Date Claimer: OUR CLOSING THE GAP IN INDIGENOUS HEALTH AWARD
Monday 18th March 2013
We are happy to announce that the Annual ANTaR Qld Closing the Gap in Indigenous Health Award will continue to be hosted with a Parliamentary sponsor and will continue to highlight the wonderful success stories in health from around our State. In negotiation with the new Government and Minister Elmes, the Award ceremony has been rescheduled to coincide with National Close the Gap Day in March 2013. Details will be sent out closer to the date. Mark it in your diaries.
Other Activities
A NIGHT BY THE FIRE WITH KATINA DAVIDSON
Tue 4 Dec 2012
6:30 pm - 07:30 pm, Talking Circle, level 1, State Library Enjoy the glow of the campfire and the city lights on the first Tuesday of each month as Aboriginal and Torres Strait Islander special guests discuss art, politics and life.  In December, A Night by the Fire encompasses a curator's tour and personal insight into the State of Emergency exhibition. Katina will talk about the process of developing the exhibition and her personal connection to the topic of the protests in the lead-up to the 1982 Commonwealth Games. kuril.dhagun@slq.qld.gov.au  
BRISBANE BLACKS MONTHLY, ISSUE #3
Brisbane Blacks Monthly is still going strong with the third issue due to hit shelves this week. This community magazine is fantastic resource for both Indigenous and non-Indigenous Australians.  For more information or to make your community contribution, contact the editor, Callum Clayton-Dixon, at brisbaneblacksmonthly@outlook.com
AUNTY JEAN'S ANNUAL CHRISTMAS CAFÉ
Saturday 8 December 2012
6.30 pm— 9 pm, St Andrew's Anglican Church Hall, 160 Vulture St, South Brisbane (enter via Vulture St) Enjoy a variety of special 'eats', plus tea, coffee and punch. An Auction will be held to help you with your Christmas gifts. There will also be interviews and music. An evening to enjoy fellowship and friendship. Come when you can—leave when you must. Entry by donation. All proceeds go to Indigenous Christian Leadership and ministries. For further information: Phone: Morris and Robin: 3844 1246 Steve and Judy: 3846 5828
TRANSFORMING TINDALE Last Days!
Closes 9th Dec 2012
Exhibit at the State Library, open daily 10am-5 pm until 9th December.   It is a unique showing of photographs taken from anthropologist Norman Tindale's 1938 Queensland expedition.   Features the work of artist Verhon Ah Kee.  Events include:  Deepen the Conversation: Transforming Tindale, 25th October 2012, 6:00pm, slq Auditorium 1, level 2, Book @ slq.eventbrite.com or 3840 7768   http://www.slq.qld.gov.au/whats-on/calevents/general/exhibitions/transforming-tindale
MURRI CHRISTMAS MORNING
Thurs 13 Dec 2012
10am–12:30pm, Riverside Green, Parklands South Bank (next to Streets Beach), South Bank What better way to kick-start the 12 deadly days till Christmas in the Parklands, South Bank, than with a visit from the one-and-only Murri Claus?!  This year he's bringing the whole family for the biggest reunion this side of Uluru and he wants you to come along too.  Join Murri Claus, Mrs Claus, Mzzz Klauz, Marvin the Murri Minstrel and the rest of the merry Murri mob for a fun-filled day of song, dance and festive cheer for the whole family. Don't forget your camera so you can get your own family snapshot. You can also join in the Murri Christmas celebrations and activities back at SLQ on Thursday 6 and 20 December at 10.30am in The Corner.
I'M DREAMING OF A BLACK CHRISTMAS
Thu 13 Dec
6-7.30pm, The Library Café, level 1, State Library of Queensland Take an old Christmas tale and mix it with a bit of Murri madness for a night of little black Christmas carolling with a difference. In SLQ's last BL.INKevent for 2012, join Steven Oliver, Mark Sheppard and Kaylah Tyson for comedic adaptations of Christmas classics like A Christmas Carol, theTwelve Days of Christmas and Jingle Bells.  Murri Christmas to all and to all a deadly night!
LIVE MUSIC AT THE BRISBANE POWERHOUSE: COLD CLASSIK ODDS
Friday 21 Dec, 8 pm
A fantastic, lively night of R&B, jazz and reggae from three of Queensland's hottest Indigenous bands:Impossible Odds, Classik Nawu and Cold Water Band.  Funk, sway and hiphop as these musical masters present organic beats, politically-charged lyrics, and irresistible harmonies from suburban Brisbane, the Torres Strait Islands, and the tropical north.  Tickets on sale now from the Brisbane Powerhouse online. Full price $25 | Concession $20 | Groups 6+ $20/ea   More info
SONGLINES VENUE AT THE WOODFORD FOLK FESTIVAL THIS YEAR
26th Dec - 1st January
Friday 21 Dec, 8 pmJoin in the music, discussions and workshops at the Songlines venue at Woodford this year. A full program including Sam Watson, Herb Wharton, Archie Roach, Stiff Gins and much much more http://www.woodfordfolkfestival.com/publications/
STATE OF EMERGENCY EXHIBITION
30 Sep - 19 April 2013
kuril dhagun, level 1, State Library Queensland, During the Commonwealth Games in 1982, Brisbane came alive with political demonstrations for Aboriginal and Torres Strait Islander civil liberties and land rights. This incredible exhibition allows you to relive and reflect on this politically significant time through original footage and photographs, and personal stories from the advocates of this revolutionary movement.
 
EXHIBITION CLAUDIA'S STORY
7 Dec – 26 January, 613 Stanley Street, Wooloongabba
Head to the Wooloongabba Art Gallery to discover the debut exhibition of Claudia Moodoonuthi in Claudia's Story.  Claudia's first body of work includes paintings, stories and photographs based on memories of her grandmother's country, Bentinck Island, and growing up in Aurukun in North Queensland.
…………………………………………………………………………………………………
 
This E-newsletter is compiled by ANTaR Qld and sourced from community news items. Subscribe on the right hand side of our home page. Our thanks to the editorial team of Kitty Carra and Kate Roberts.
 
ANTaR Qld acknowledges the traditional owners of Queensland and we pay our respects to Elders both past and present. We also pledge our support for the ongoing struggle for rights, justice and recognition in this country.